Twitter was launched in July of 2006 as a micro-blogging service. The idea was to let friends and co¬-workers keep track of each others' activities through short messages (called tweets). Twitter users could send messages both from a web interface and from their mobile phones. That is why the maximum length of each message on Twitter is 140 characters, because it was intended to be compatible with SMS.
If you are completely new to Twitter, we are going to briefly explain how it works. Here is how the homepage looks: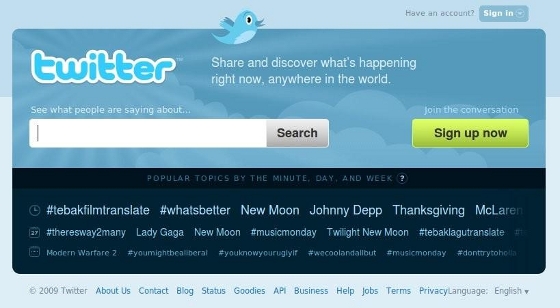 While creating an account (which is free) you will need to pick a user name. That username will be used to create the URL of your profile. If you picked "johndoe" as your username, the URL of your profile will be twitter.com/johndoe (as the image below illustrates).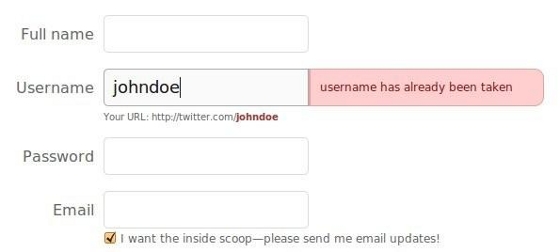 That URL is public, and people who visit it will be able to see all your tweets (the messages that you published on your Twitter profile, either via the web interface or via your mobile phone).
Here is how your Twitter profile will look to other people: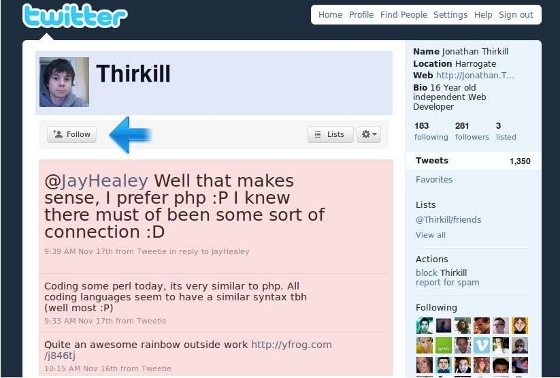 The section highlighted in blue is where your picture and user name will appear. The section highlighted in red, right below, is where your tweets appear. On the sidebar you have information about the profile, including the name, biography and statistics.
Apart from visiting the URL of your profile, however, people can also decide to "follow" you (as the arrow in the image above illustrates). Once they do that, they will start receiving your tweets on their own Twitter accounts. They can read those tweets on Twitter's web interface or use applications to receive the tweets on their desktop, via email, via RSS and so on. In other words, once a person is following you he or she will be able to stay updated with all the information you publish through your tweets.
Now let's take a look at the interface you'll see once you log into your own Twitter account.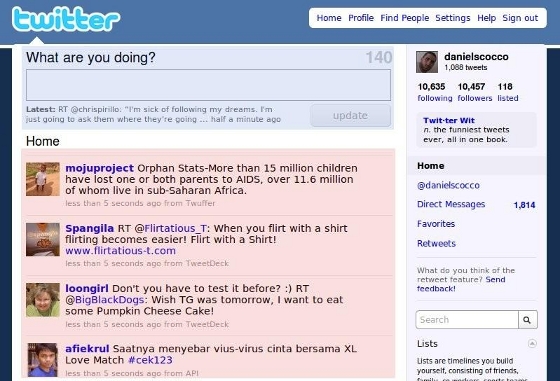 On the top right corner you have the main navigation menu. The central section highlighted in blue is the box you use to publish your tweets. Simply type them there and click on "Update."
The section below it, highlighted in red, is where you will see the tweets of the people you are following. On the sidebar you have links to the list of people you are following, to the list of people who are following you, to tweets you have "favorited" over time and so on.
You will also notice a link to @yourname on the sidebar. That link points to a page where you can see all the tweets that contain @yourname. People use @yourname when they want to reply to one of your tweets or ask you a direct question.
Why Do People Follow Other Twitter Users?
At this point you might be asking yourself: "OK, but why on Earth would someone want to follow me on Twitter and read my tweets?" There are many different reasons, depending on why and how you use Twitter in the first place.
Let's suppose that you are traveling around the world and that you are using Twitter to publish updates about your destinations and experiences. Your parents would certainly want to follow your Twitter account to keep updated with your whereabouts. And the interesting thing is that you could follow the Twitter accounts of your parents in return, and you would be able to exchange messages back and forth with them, like an instant messaging service.
The above is just one example of how you could use Twitter, though. The kind of content that you will post on your tweets is entirely up to you, and this flexibility is exactly the ingredient that made Twitter explode on the web.
Twitter created a platform where people could exchange messages and links, but it didn't try to force how you were supposed to use it. As a result hundreds of creative ways to use the platform emerged. Here are some examples of how people and companies are using Twitter:
Many people use Twitter to keep in touch with their real life friends and contacts.
Others use it as a social networking tool to meet people with similar interests over the Internet.
Many bloggers are using Twitter to let their readers know when a new post has been published, much like an RSS feed.
CNN has a Twitter account that gets updated with all the breaking news. If you want to know what is happening around the world,just follow it. You can visit it here: http://twitter.com/cnnbrk
Dell, the computer manufacturer, created a Twitter account where it tweets about special computer offers. The company claims to have sold over $2 million through that account already. You can visit the account here: http://twitter.com/DellOutlet
Comcast created a Twitter account to provide customer support. Customers can report their problems and get answers through tweets. You can visit it here: http://twitter.com/comcastcares
Digg, the social bookmarking site, created an account that tweets all the stories that get over 2,000 votes on its site. People can follow that account if they want to stay updated with the hottest stories on Digg. You can visit it here: http://twitter.com/Digg_2000
The result of all this activity is an exponential growth in the number of Twitter users around the world. Nielsen estimated that over 12 million people were using Twitter by the end of 2009. If you are a website owner, blogger or online entrepreneur, this critical mass means one thing: you can't ignore Twitter as a potential marketing channel.
Promoting Your Account
First of all you need to make your account an active one before you start promoting it. Twitter users can spot "dead" accounts easily, and if yours look like one they will not follow you. Here is a screenshot of a "dead" account: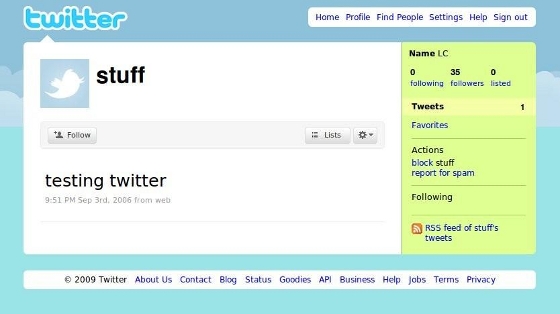 The factors that denounce a "dead" account are:
The account is using the default backgroundimage.
The account is using the default profile picture.
The account has no or few updates (i.e., tweets).
The account is not following anyone.
The account has no or very few followers.
Before anything else, therefore, customize your account, publish some updates there, follow some people and get some followers.
Why Do You Want a Twitter Account?
At this point you need to ask yourself the question: "Why do I want this Twitter account?" In other words, what are you planning to do with it? Here are some possible answers:
To make money with sponsored tweets.
To drive traffic to my blog.
To sell affiliate marketing offers.
To help build my brand.
It is important to identify why you are creating the Twitter account in the first place because this will help you choose the most effective promotional activities.
Secondly, once you know why you are building the Twitter account you will also be able to identify your target followers, and what kind of content they would like.
For example, if you are building your Twitter account to drive traffic to your blog, your target followers are the people interested in the topic of your blog. If you blog about dinosaurs, your target follower are also interested in dinosaurs.
Now what kind of content would one such follower like? Certainly he would like to get facts about dinosaurs and links to stories that talk about dinosaurs. There you go, by identifying the main purpose of your Twitter account you already know who your target follower is and what kind of content you need to publish on your Twitter account to please him.
A Twitter Account Is Like A Website
One of the basic principles to promote your Twitter account is this one: your Twitter account is no different than a website.
If you want to have a popular account and gain many followers, one of the things you can do is send a lot of traffic to your Twitter profile. A percentage of that traffic will certainly like the kind of content you have there, and they will return to your Twitter profile in the future (yes some users prefer to read tweets directly on the Twitter profile page), or follow you to receive your updates directly on their Twitter accounts.
We are now going to list the methods that you can use to send traffic to your Twitter account (i.e., twitter.com/yourname).
1. Place a link on your email signature
We all send and receive dozens, if not hundreds of emails every day. Why not use this communication channel to let your friends and work contacts know about your Twitter account?
Simply add a link to your Twitter profile in your signature. This method is not intrusive at all, and it can yield good results in the long term, especially if the people you exchange email with could be interested in the content you publish on your Twitter account.
2. Place a link on your website or blog
If you have a website or blog, you must add a link to your Twitter profile there. Why? Because you already have a relationship going on with the people visiting your site, and a Twitter account can be a natural extension to that.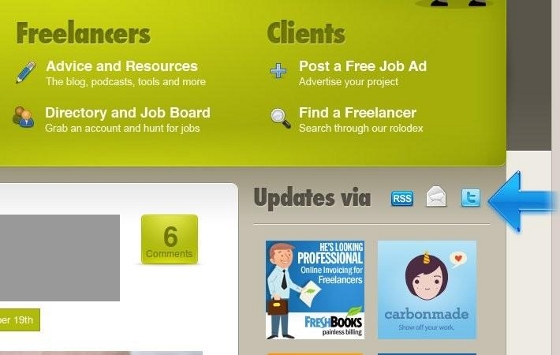 One way to do this integration is to make your Twitter account a subscription option for your blog. This means that your visitors can follow your account to get the tweets about your latest posts. Above you saw a screenshot of FreelanceSwitch.com, which uses this method.
Alternatively you can add a "Follow me on Twitter" badge on the sidebar of your site to let your visitors know about your Twitter account. Here is an example: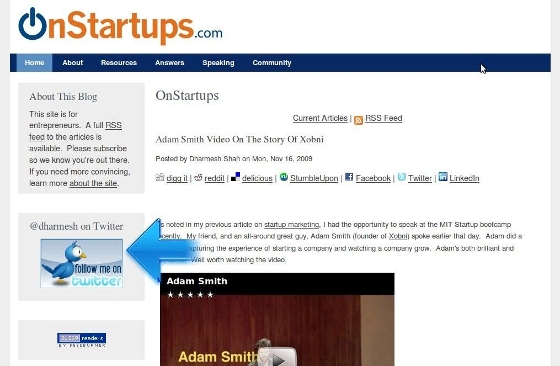 If you need to find similar badges or buttons, check these links:
3. Write a post on your blog
Apart from linking to your Twitter account with a badge placed on your blog you should also consider writing a post to encourage readers to subscribe to your Twitter account.
With a complete blog post you will be able to explain what kind of content the readers will find on your Twitter account, what benefits they will get from following you and so on. This can be much more persuasive than a static badge on the sidebar.
4. Leverage social media
Any social media website where you can place a link is a good outlet for you to promote your Twitter account. If you use social bookmarking sites, for example, put a link to your Twitter account on your profiles. If you comment on many blogs, try making the comment link point to your Twitter account. If you use Facebook, write a message encouraging your friends to follow you on Twitter. So on and so forth.
5. Run a contest
Whenever people have something to win in a situation they will be much more likely to take action. That is why contests work really well on the Internet, and you can use them to promote your Twitter account as well. For example, you could offer some prizes to all the people who follow you on Twitter within a certain period of time (e.g., one week). At the end of that period you do a random draw with all your followers and award the prizes.
Another option is to create a contest where people need to retweet a particular message to enter. The message could contain your user name (e.g., @yourname) and a link to the content page, with the objective of making the thing go viral.
These are just two examples of how you could leverage contests to promote your Twitter account. There are many more out there, so get creative.
Action Points
If you don't have a Twitter account yet, sign-up for one and familiarize yourself with the interface.
Customize your account and make it active, so that other people will have no problems following you.
Identify what you expect to get out of Twitter. Having this clear is important because it will allow you to understand who your target followers are.
Use the techniques described above to start promoting your account and gaining followers.
Navigation Links
Previous Lesson: Social Bookmarking Secrets
Next Lesson: Marketing on Twitter – Part 2