Video Marketing is a much more difficult type of marketing, a lot different, difficult but at the same time much more effective than the typical blogging. Best way to learn video marketing is to buy a high quality course from someone who has been doing it and is famous for it but most importantly, teaches you EVERYTHING about video marketing.
Most of Video Marketing courses focus on SEO and rankings of your videos and some other courses focus too much on content creation. In both cases, you'll be left with lots of unanswered questions about video marketing.
It has been a while since a good video marketing course has been released. A course that helps marketers leverage video for traffic and sales. It has been a big bubble in the marketplace for some time.
I'm not talking about courses that teach you how to create cool videos, or courses to help you maximize or get more traffic with video, I'm talking about a course that offers both.
People behind Video Traffic Academy: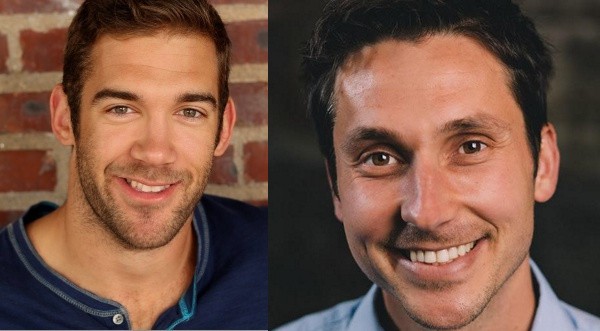 Two people behind Video Traffic Academy are Lewis Howes and James Wedmore. I've known James about 2 years from his YouTube channel and had a phone conversion with him about 2 weeks ago. I haven't met Lewis Howes or talked to him but everything I've seen and heard about them has been positive and no one is complaining about their business ethics. See them on camera at the Video Traffic Academy site.
What's inside Video Traffic Academy?
Video Traffic Academy is designed to help online marketers and entrepreneurs understand and use the power of video and YouTube in their business. This course has 4 main modules:
1. YouTube Channel Optimization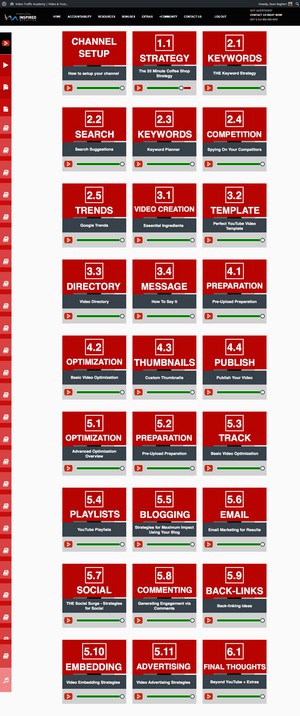 This module will teach you to optimize your YouTube channel for maximum rankings and makes sure you're channel is ready for next step.
2. Video Creation
This module will take you through different methods that you can use to create great videos for your business based on your personal preferences. This section is not just about creating videos, but it's about creating videos that your audience will love, enjoy and engage and elements each video must have to become a profitable video for your business.
3. Video Optimization
This module is the most important module of Video Traffic Academy. In this module James Wedmore will show you what needs to be done step by step to optimize your video for maximum rankings and performance on Google and YouTube. From step by step on editing videos, rendering to optimizing on YouTube, and more.
4. After Upload Video Optimization
After upload optimization is another SEO step to ensure your video's rankings. This advanced section on Video Traffic Academy will show you different methods of generating backlinks for your videos, getting subscribers, likes and more views for your videos to increase sales and rankings.
Video Traffic Academy Course Modules
There are 5 main modules to the course which cover the four categories above:
Video Traffic 101: This module has 4 videos providing a decent overview of the importance of video marketing, why most fail at it, and the importance of having the right mindset when approaching video marketing. Total length: 77 minutes
Developing Your Strategy: This module contains 3 videos walking the marketers through developing their strategy, 4 pillars of success, how to carve out your niche, what time to post videos, etc. Total length: 49 minutes
Creating Killer Videos: 5 videos are included in this section, elements each video must have Total length: 100 minutes
Video Optimization: A whopping 8 videos here. Step by step on editing videos, rendering, and optimizing on YouTube, and more. Total length: 113 minutes
Advanced Video Strategies: This module contains 3 videos dealing with the further actions to take to promote the video after the video is online. The last video is actually a carousel of videos where you watch James apply the video strategies himself. Total length: 146 minutes (carousel being 99 minutes).
How can it help you?
Video can supercharge any kind of business, from online related business to local businesses, because people prefer to "watch" something instead of reading it. Video Traffic Academy will ensure your success in video marketing by showing you the latest methods and tricks of video marketing and at the same time, it teaches you to create awesome videos to keep your viewers on the video and convert them to customers. (Get your copy of video traffic academy)
What I Like About the Course
Some observations I had while going through the course (Disclaimer: I did not listen to every second of each video).
Talks mindset and his thoughts on left-brained vs. right-brained video marketers.
Uses free tools that are available to anyone like Google Insights.
Provides links to paid resources and tools outside the course, video mentions the fact that they are affiliate links.
Uses real-world examples (I value case studies that validate a particular strategy).
Shows the use of the Google wonderwheel search tool, but that is not something I have available when using Google, something I noticed when I started using Google+ (more on that here).
Demonstrates a 3rd party tool which helps video marketers reverse engineer YouTube rankings. Knowing what factors are needed to compete with existing YouTube videos.
Clarifies that YouTube is a community, having both written and unwritten guidelines.
Encourages thinking for the long-term, not about a given video, but about the video channel you have, your collection of videos. 80/20 rule for traffic, handful of videos bring most of the traffic.
Explains how to produce creatively, post technically.
Includes bonuses to help you get going including video traffic process maps, and a resource library with video bumpers (put at front and backend of videos), backgrounds, and over 350 royalty free music tracks. Having resources like these are important for making quality videos.
What I Don't Like About the Course
Overall this course is exceptionally well put together. Very professional, and exemplary in the way the course is structured. The points below weren't big issues, but they caught my attention and may catch the eye of customers and therefore are worth mentioning here. Admittedly, they are a bit on the picky side.
Found the audio volume to be a little low in a couple videos. This was apparent in some of his case study videos. Several times while going back and forth from the training video to case study videos at YouTube.com, I was startled, and had to bump the volume down, then up when listening to the training video, then down again when back on YouTube.
Couldn't find video download option. When possible, I like to download videos and listen to them at 2x speed. This allows me to get through training material quickly. Many courses like this don't offer a download, because inevitably they end up being pirated (at least the good ones do). I'm not sure exactly what the sales process is, but it might be nice to create an option for customers to purchase mail order the DVDs.
To their credit: They do have a download center on each page, where users can download the cliff notes, the PowerPoint, the MP3 audio, and the transcript. This is a smart move and a good compromise so customers can get through the course quickly.
Is this Course for You?
Maybe, maybe not. Can I be real with you here? If you don't have a website, a product to sell, or any income, let me encourage you to take care of those things first before investing in a course like this.
However, if you have the time to invest in learning and implementing, and can swing the course fee, then let me encourage you to get a copy, to my knowledge this is the best course of it's kind currently on the market.
Let's Talk Money: What is the Investment for This Course?
This is a paid course and is a worthwhile business decision. You have to decide whether the value given is worth the investment. I've seen similar courses in the $1500-$2500 range. This is nowhere near that.
I didn't find out the price of the course until I was well into the initial review. So I was taken back when I found that the launch price is $97. Taken back because I understand how much work it took James Wedmore (his partner) to put it together.
Bottom-line on Video Traffic Academy
This is a smart move by Lewis, partnering with a top video marketer to put together a course with a lot of value, and sell it at a very compelling price. As already stated, while not flawless, this is the best course I know of, available on the market today. Get your copy of Video Traffic Academy by clicking below image: